CLINIC GUIDANCE
Updated 12.05.2020
Following new guidelines released by the British Chiropractic Association (BCA), the clinic can now open for urgent appointments. Please contact the clinic on 01245 353078 to talk to a chiropractor or leave a message.
Alternatively email us at info@chelmsfordchiroclinic.co.uk. We are a little short-staffed, so please be patient and we will get back to you as soon as possible.
PROCEDURES FOR ATTENDING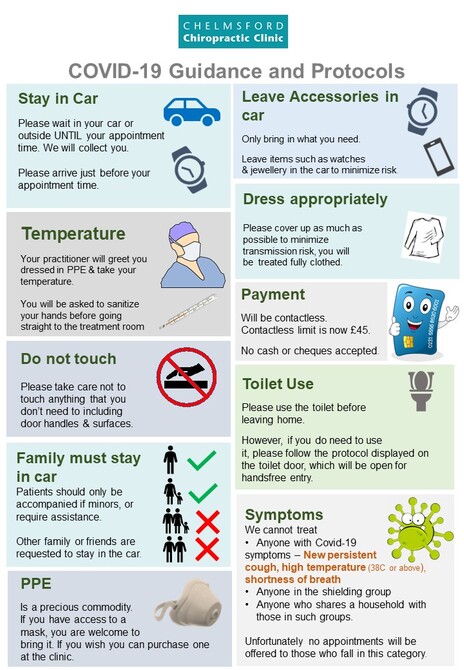 MEASURES IN PLACE
Health and safety of our patients and staff is always our top priority. The clinic has put in place the following measures:
TELEHEALTH
If you are in pain one of our clinic's chiropractors will telephone you with advice, exercises and to discuss the best course of action regarding treatment. If a face-face appointment is deemed appropriate, we will schedule an appointment for treatment.
SCREENING
If you are booked in for an urgent appointment, one of our team will telephone you 24 hours prior to your appointment to ask some screening questions related to COVID-19 and you and your family members degree of risk.
SOCIAL DISTANCING
The clinic may look a little different to normal when you attend. We have put measures in place to maintain the government advised 2m social distancing.
PPE
Our practitioners will also look a little different. We will be wearing all the recommended PPE that has been suggested by Public Health England. You also have the opportunity to purchase a mask as you enter the clinic for a small fee, should you wish. By all means bring your own if you have one.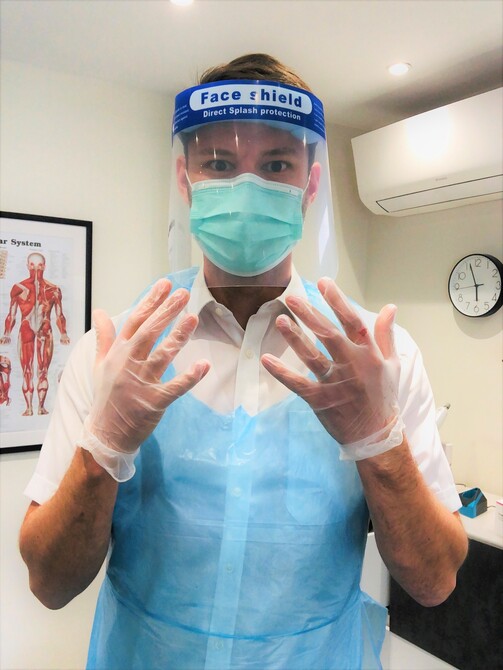 TRAVEL THROUGH CLINIC
Sadly you will no longer be able to take a moment and read a magazine or enjoy a drink in the reception area. The practitioner will come and collect you from your car and walk you straight to the treatment room.
SANITISING STATION
You will be asked to use the antibacterial gel supplied when you arrive. Please take a moment to sanitise your hands. The practitioner may also take your temperature at this point with a non-contact thermometer.
MAINTENANCE APPOINTMENTS
In line with government advice, the BCA is recommending baby steps regarding reopening. For now, face-face appointments will only be available for urgent cases. If you have a maintenance appointment scheduled, please wait we will be in contact to reschedule it if necessary.
_______________________________________________________________________________________________________________________________________
Chelmsford Chiropractic Clinic Policy Coronavirus (COVID-19) Updated 24.03.2020
Dear Chelmsford Chiropractic Clinic Patients
As I'm sure you know, all the staff at the Chelmsford Chiropractic Clinic are proud to treat you and grateful that you entrust us with your care.
However, to reduce the risk of COVID-19 transmission, we will no long be providing any face to face appointments within the clinic. This is a temporary measure based on advice today from the British Chiropractic Association and the government. By acting together as a community I'm sure we can minimise the impact this virus may have on us all.
For patients who have maintenance appointments scheduled, you will hear from our receptionists shortly. You are also welcome to contact reception if you wish to discuss rearranging your appointment.
If you are in acute pain and would like advice, please still ring the practice on 01245 353078 where a chiropractor will return your call within 24 hours.
Please rest assured we will keep you regularly updated and Chelmsford Chiropractic Clinic will be fully up and running again as soon as possible. Take care of one another.
Kindest regards
Dicken Read MChiro DC MRCC
Clinic Director
GCC Registered Chiropractor
_______________________________________________________________________________________________________________________________________________________
What we are doing at the Chelmsford Chiropractic Clinic Updated 18.03.2020
You will be aware that the Coronavirus advice is updated on a daily basis and as a health clinic we feel it important that you know what measures we have taken to ensure that both patients and staff stay safe.
All of our staff are fully updated and we follow Local Infection Control Policies as a matter of course:
We have hand sanitisers in Reception and in every treatment room (please ask at reception)
We have hand soap in the downstairs toilet – please use hand towels to dry your hands and discard in the bin
Hand cleaning: our therapists thoroughly clean their hands with sanitiser / soap between patients.
Broken skin is covered with a waterproof dressing.
Bench cleaning – after each treatment per patient, the treatment table is cleaned with an antibacterial wipe.
Our therapists wear gloves when there is direct contact with blood, body fluid, non-intact skin or mucous membrane, after which the gloves are discarded and hands washed with soap & water.
Each treatment room has the above equipment in stock and ready to hand.
If you are a patient with any concerns about attending your appointment with us, please contact the clinic on 01245 353078 to discuss this.
This is how you can help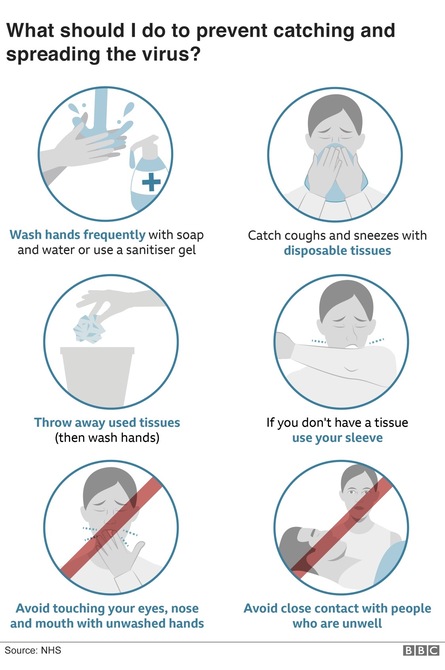 Stay at home if you have coronavirus symptoms
Stay at home for 7 days if you have either:
a high temperature
a new continuous cough
Do not go to a GP surgery, pharmacy or hospital.
You do not need to contact 111 to tell them you're staying at home.
Use NHS 111 online if you feel:
you feel you cannot cope with your symptoms at home
your condition gets worse
your symptoms do not get better after 7 days
Only call 111 if you cannot get help online.